There are 4 different types of car insurance in Australia. Below, I explain each of the different types of car insurance and help you decide what type of insurance you can consider.
If car insurance sounds like gobbledygook to you (it does to me), watch our video below or read our blog post on the need-to-know terms: "Key Insurance Terms Explained."
Types of Car Insurance Australia
Compulsory Third Party or CTP
Third-party property
3rd party fire and theft
Comprehensive Car Insurance
Compulsory Third Party or "CTP" Insurance Explained
Third-party "CTP" insurance is a minimum requirement to drive in Australian states… and for good reason. CTP provides coverage for other people who get injured or die in an accident.
For example, if you're walking down the road to the supermarket and a car runs off the road and hits you — that car is 'in the wrong' and needs to have cover for your costs — and the costs of damage to any other vehicles.
Third-Party Property Explained
3rd party car insurance is sometimes called "bomb insurance" because it's designed to offer protection for…. well… bombs.
Just kidding.
Most third-party car insurance policies provide cover for other people's property and cars, but not your car.
For example, if you crash your car into a parked car (you're 'in the wrong' or 'at fault'), your insurer will cover you for damages to the parked car and nearby property. But you can wave goodbye to your bomb — it won't be covered.
Is "Third-Party" Cover All I Need?"
Insuring your car is important. So if you absolutely cannot afford comprehensive car insurance (see below), you should at least have 3rd party property insurance. This is usually the minimum standard of car insurance offered by Australian insurers.
Just imagine the look on your partner's face if you t-boned Kyle Sandilands' Ferrari without any insurance.
Third-Party Fire and Theft
Third-Party Fire and Theft is the same as Third Party Property except you're covered if your car is stolen or damaged in a fire.
Depending on the policy, you may be able to 'agree' on a fixed value of the fire and theft level of cover — or it may be market value.
What does "Market Value" mean?
Say you have a car you bought last year for $10,000. This year, the 'market value' could be $9,000, with $1,000 taken off to represent the age of the vehicle.
If you have a 'market value' car insurance policy and you get a payout of insurance, you'll probably receive whatever the insurer says it's worth, based on the market value at the time. This is usually based on the average prices of cars of a similiar make and model.
If you feel like your insurer isn't giving you the right amount of money, go back to and tell them. When you do take evidence (industry reports, online advertising, expert reports, etc.) that shows you car is worth more. Even if you get an extra $500 in your payout, that's $500 in your pocket!
What does 'agreed value' mean?
An agreed value or agreed level of car insurance is exactly what it sounds like. When you take our your policy with an insurer they might give you the option to insure your wheels for a set price.
For example, if you bought your car 6 months ago for $10,000 but the market value is $8,000 you might request to insure the car for $10,000.
Comprehensive Car Insurance
As they might say in Mexico, Comprehensive car insurance is "the whole enchilada".
If you're at fault, your Comprehensive car insurance provides cover for:
Your car, plus
The other person's car, plus
Property damage, and
Covers you if your car catches fire or gets stolen
Again, sometimes you can agree on a fixed level of cover or market value, which can be determined as the current value of your car when it was crashed.
Is [car insurer] the best car insurance?
Be careful: there are limits to the level of cover, the cheapest is not always the best and every policy is different.
Usually, the cheapest cover is cheap for a reason. If you're considering the cheapest form of insurance:
Do some online searches for reviews to hear the stories of other customers. Keep in mind, every insurer has bad reviews.
Read ALL policy documents, including the

Product Disclosure Statement

and the

policy certificate

, which sets out what you are covered for and the amount.
Find your insurer in the Finance Ombudsman's Comparative Tables. The tables tell you how many complaints or disputes an insurer has faced from annoyed customers. You know what they say, where there's smoke, there's a bad insurer! Tip: if your insurer 'isn't listed', consider that the name of the insurer in the tables might be company behind the insurance. For example, if you bought 'Coles insurance' there's another company, called the underwriter, who provides that cover — Coles is just the brand it's sold through.
Are These The Worst Car Insurers In Australia?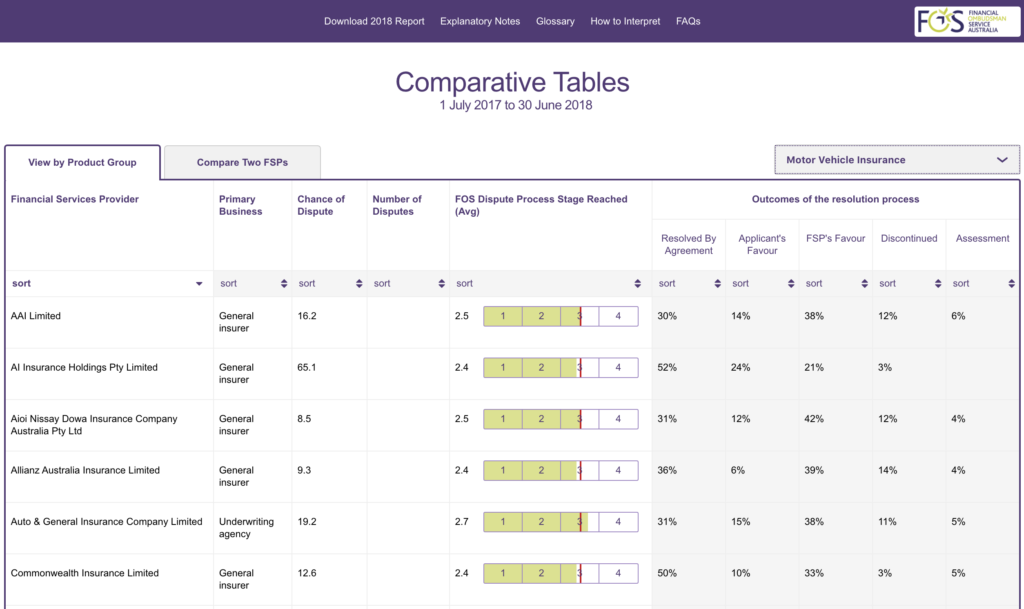 Help! I Can't Afford Comprehensive Insurance!
You don't need comprehensive car insurance if you never crash — or if you could afford to replace your car if you crashed with third-party insurance.
And hey, everyone experiences financial difficulty at some time in their lives. So if you really want comprehensive insurance, call your insurer. They may be able to help in some way.
Alternatively, you should know the team at Good Shepherd, AAI and Suncorp have teamed up to offer insurance policies for people who think they can't afford the high costs of full/comprehensive cover for their cars.
Click here to visit the Good Shepherd website.
6 Ways To Make Your Car Insurance Cheaper
Using these strategies could save you up to $500 or more on car insurance:
Don't crash (obviously). As a safe driver, you won't ever pay an excess if you don't crash and the cost of your insurance won't jump higher from one year to the next.
Park your car in a secure area. If you park your car under cover or in a secured car park, tell your insurance. This also applies if you only drive a few hours a day — tell your insurer. After all, if you're not driving much you should pay less than someone who drives every day.
Shop around each year. Most insurers reward NEW customers and NOT loyal customers (can you believe it?). Set a calendar reminder in your phone or Google/Apple/Microsoft calendar to compare policies each year. You might find you can get the

exact same insurance online for $50 or $200 cheaper!

Don't put 'mods' or aftermarket parts on your car (they look lame anyway). Mods like big tyres or dragon-skull paint jobs tell your insurer (and the rest of the world) you have too much time on your hands — and the mods add costs the insurer might have to pay for. Worst case, the mods make your car unroadworthy and mean it's not insurable.
Add security features. Most modern cars have security alarms but some have immobilizers. Such features can lower the cost of car insurance.
Consider buying your policy online. Some insurers offer the same car insurance policies cheaper to online customers.
Car Insurance is NOT…
Life insurance. Life insurance is a different form of insurance.
Income protection. Car insurance doesn't pay your wage if you're off work because of an accident.
Car insurance is NOT going to cover you for doing illegal things behind the wheel (like driving while drunk, under the influence of drugs, speeding away from Police, doing burnouts, taking part in a race, you get the idea…), or
Deliberate damage. Did you deliberately break it? You buy it.
If I claim, Will I Lose My Driver Discount?
The Financial Rights Centre has a quick online tool to assess if it's worth lodging a claim. This is a free tool that will help you know if you're at fault and what to do next.
Did you know Rask Education offers investing, budgeting, tax and finance courses? Here are the three most popular:
Absolutely no credit card or payment information required
-- all you need is an email address!