Looking for a list of Australian share broking accounts, or just want to know how to pick an online share trading account you can use to get started investing?
Video: How to Buy Shares In Australia For The First Time (2020)
If you're interested in learning more about investing than the absolute basics, take our free course, Shares for Beginners. It's 100% free. It'll teach a beginner everything they need to know.
Picking A Broker for the 1st Time?
Before you compare your share trading account, it's important to read the terms and conditions and product disclosure statements (PDS) of each broker. Also, MAKE SURE YOU PICK A BROKER THAT IS LICENSED & AUTHORISED.
In my blog post, "How do Share Broking Accounts Work & Are They Safe?" I explain what you should be looking for and where to find the information.
List of share trading accounts in Australia (with video)
Note: this is just a link of broker accounts. We're NOT recommending them — they're simply listed in alphabetical order. If you spot a mistake or want something included, please email me. This blog article explains how to pick licensed brokers on the ASX website.
ANZ Share Trading – link
Bell Direct – link
Bendigo Bank – link
CMC Markets – link
CommSec – link
IG Markets – link
Macquarie Online Trading – link
NABtrade – link
Netwealth – link
SelfWealth – link
St. George – link
Suncorp – link
Westpac – link
Before You Start Trading
Investing can seem daunting and risky. Plus, we never learned about it at school.
That's why I suggest that you consider taking our free share investing course. It's fully online, easy, free and fun — and can be finished in only 60 minutes. By taking it I'm confident you will be able to make better decisions — and avoid getting sold rubbish extras or features by the marketing departments of big finance companies.
Can I trade international shares through a brokerage account?
Although you'd think it would be nice to buy and sell all of your shares in one account, including your Australian (ASX) and international shares (e.g. NYSE, NASDAQ, FTSE), unfortunately, it's not that easy.
Because of the different regulations between Australia and overseas markets (USA, Europe, etc.) not all online share brokers will enable you to buy and sell shares from overseas markets. For example, most Australian brokers won't let you buy or sell shares of US-only companies like Apple and Microsoft.
Want to open an international brokerage account to buy US shares? Here's our step-by-step tutorial to finding US share broker in Australia
Our Shares for Beginners course explains the steps required to buy and sell different kinds of shares, and the common language you will encounter.
Using ETFs to invest overseas
It's also worth noting there are many ETFs, or Exchange Traded Funds, available on the ASX that invest in international shares and US companies. Vanguard, BetaShares, iShares, VanEck and ETF Securities offer international exposure through their ETFs. You can buy into these ETFs easily through your Australian broker.
Our Best ETFs website has the full list of Australian ETFs available.
How long does it take to get start trading shares?
The short answer is it depends on which broker you choose and who you bank with.
If you choose a broker which is supported or owned by your bank it might be quicker to set up because you might have to fill in ID documents or wait for your funds to clear. Meaning, you could be up and running within one day. Other broker accounts can take longer to activate, get funded and start trading (i.e. 2-5 working days).
Some international share brokers have a fully automated onboarding program, and some even have apps for iOS and Android. However, most overseas shares account are terribly designed. Depending on the broker you choose it could take as little as 2 days or up to 10 days to activate and fund a new international share trading account.
What does a share broker look like?
Think of a share broking account as the lovechild of a web banking account and Ebay/Amazon.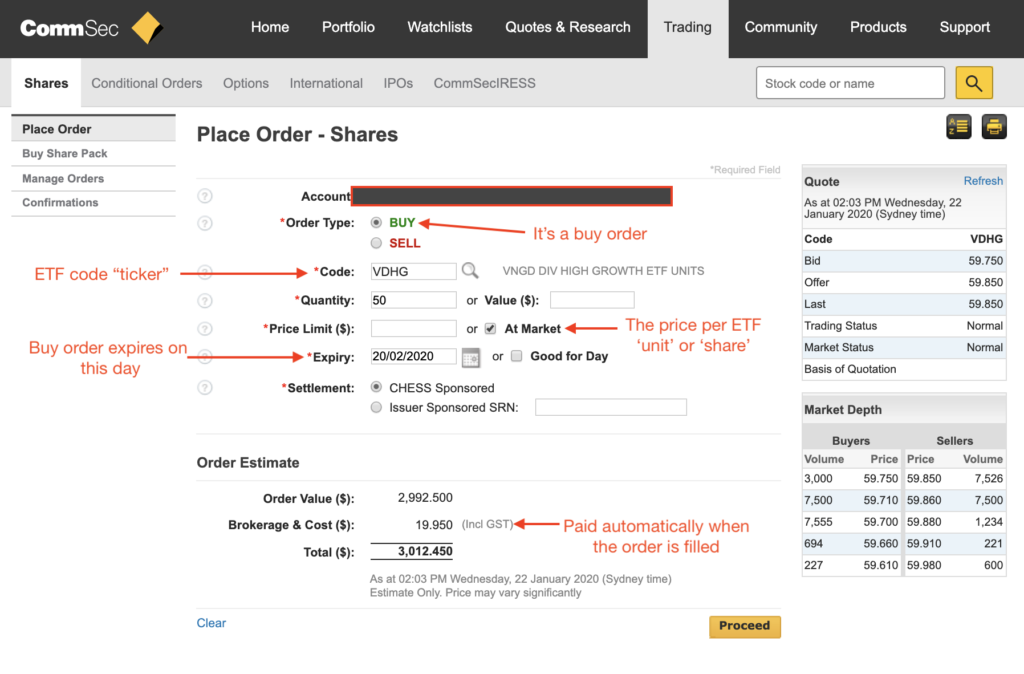 Steps to start trading shares & ETFs
Consider your options
Make sure the broker is approved & licenced
Read the terms & PDS
Apply for the account online, at the broker's website
Provide ID
Once approved, fund the account
Search for the shares or ETF you want to buy
Double-check your order and set it
Once you have your account set up and funded you're off to the races. But please remember this: after interviewing Australia's top professionals I've found that the best investors often use the slowest (not fastest) and simplest (and low cost) strategies. In other words, don't rush it. Trying to 'get rich quick' almost always ends in ruins.
Did you know Rask Education offers investing, budgeting, tax and finance courses? Here are the three most popular:
Absolutely no credit card or payment information required -- all you need is an email address!